The Secret
People ask me where I learned what I teach.
"From many places" I say.
And that's true.
But it says nothing about the real source of my continuous knowledge.
Perhaps I could be selfish enough to answer pointing the names of some new books, but… that wouldn't be of help to them. And that's not me.
Thinking again, I could tell them that I have 3 drivers of thought, I mean 3 awesome virtual mentors, which are all of them part of the same circle of wisdom, practice and consciousness (MH/BB/JW). And then shut up.
And that's it.
Or I could tell them, at least, about the tip of the iceberg.
But I would still keeping a major secret…
And the secret is this: one of those names is… Michael Hyatt.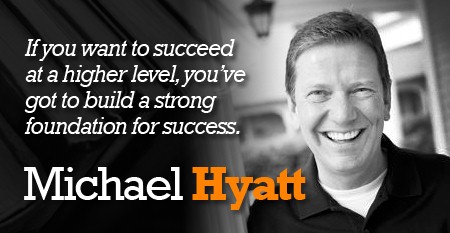 The Lessons learned
The first lesson I learned from him was that the Magic is not in the knowledge, but in the Action.
The second one: I learnt that the real goal is not to learn as much as possible, but to touch others' drivers of motivation with the right skills, where is most needed and at the right time.
And the third: I have the certainty that my platform of excellence will be increasing, by knowing there is a master out there, creating new programs and contents to improve other people lives, jobs and relationships.
The Challenge
To me, the biggest challenge for most of us is about really believe there is always a new beginning, from mental, physical, spiritual and emotional point of view.
Michael knows that and relies on this self-confidence to keep on learning and teaching about that. And simplify complexity.
My feeling is that he knows there is no finish line for those who are really engaged to serve and guide others through a new journey, while he keep growing at the same time.
The 3 take-aways:
I would recommend you, dear reader, to learn from him, since there are more lessons to take home at every point of touch along his episodes or posts, for instance:
there are no frontiers to transfer wisdom, faith, hope and / or business tools (in fact, I receiving them from Buenos Aires / Argentina);
there are no excuses for not being humble enough to accept reinventing oneself;
there is not better effort or project that one that transcends oneself and make others shine.
Like you, I do want to fulfill my purpose, grow, share and leave a legacy.
And I couldn't be closer of the right path to get it.
Believe in YOU and build your platform too.
www.platformuniversity.com
– Alejandro
Unete: <a href="https://liderazgoyventas.leadpages.co/leadbox/140d85c73f72a2%3A1485f9fb3346dc/5732568548769792/" target="_blank" style="color: rgb(255, 255, 255); text-decoration: none; font-family: Helvetica, Arial, sans-serif; font-weight: bold; font-size: 16px; line-height: 20px; padding: 10px; display: inline-block; max-width: 300px; border-radius: 8px; text-shadow: rgba(0, 0, 0, 0.247059) 0px -1px 1px; box-shadow: rgba(255, 255, 255, 0.498039) 0px 4px 3px inset, rgba(0, 0, 0, 0.498039) 0px 4px 3px; background: rgb(55, 125, 12);">Haz click aquí para suscribirte</a><script data-leadbox="140d85c73f72a2:1485f9fb3346dc" data-url="https://liderazgoyventas.leadpages.co/leadbox/140d85c73f72a2%3A1485f9fb3346dc/5732568548769792/" data-config="%7B%7D" type="text/javascript" src="https://liderazgoyventas.leadpages.co/leadbox-908.js"></script>